4 Interior Design Tips to Make a Hallway Look Bigger
As you settle into fall and spend more time inside, you may notice that certain areas of your home seem cramped and cold. Dark, narrow hallways can make your home seem uninviting, especially in contrast to more lived-in areas like your living room or bedrooms. Although hallways mainly serve as transitory locations, a passageway to other rooms in the house, it's important not to neglect them or diminish their importance, take a look at this article on 11 Home decor ideas for small spaces.
Hallways serve to connect and unify the comfort and overall cohesion of your home's interior décor. When your home has a small hallway, you will want to use special design tips to help it look bigger. Here are some ideas that are recommended by designers to create a space that looks larger.
Eliminate Excessive Clutter
Avoid having excessive clutter in your hallways as it will take up space and make it seem like you don't have room for items elsewhere. One possible remodel that could help you regain use of hallway space could involve creating a recessed storage system that is built into the wall spaces. You will likely need to hire a carpenter or a contractor to help with this process to avoid damaging any electrical wires, water pipes or support systems in the walls.
The benefits from recessed shelves or cabinets are that you will have additional storage that is attractive but that won't require taking away any space in the hallway. Don't keep tables or bookshelves in the hallway because it will make the space feel cramped. Make sure to put away objects and toys that may litter the hallway, giving guests less space to comfortably stand and walk. Cleanliness and clear walking space is to hallways what comfortable couches and charming clutter might be to a bedroom or playroom. It helps the room fulfill its purpose in the most comfortable way.
Additional Lighting in the Hallway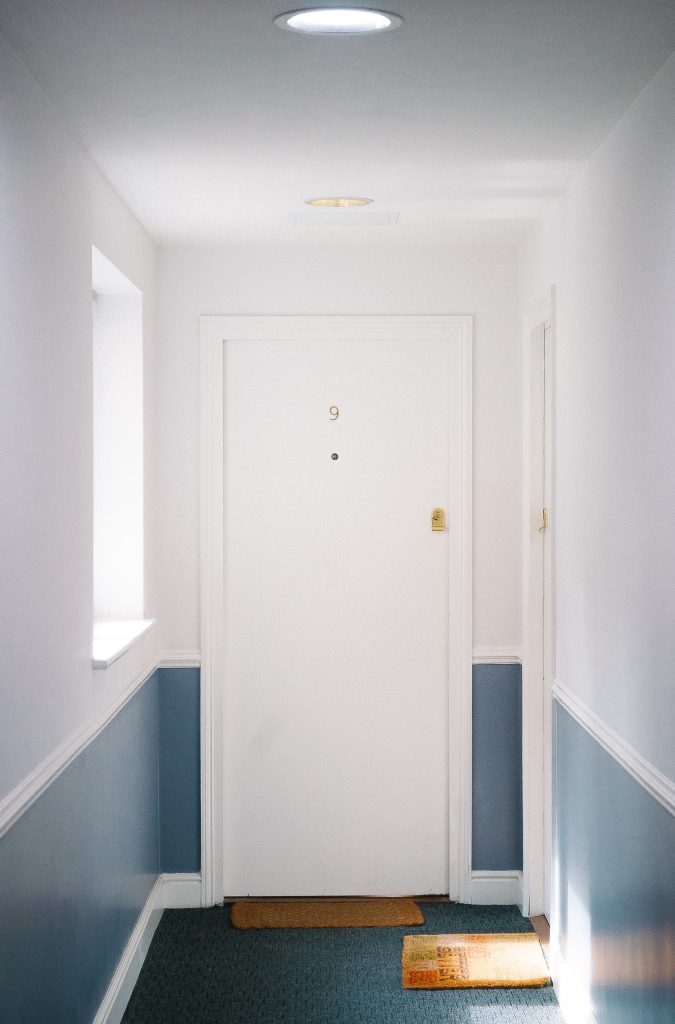 An easy way to make the hallway look bigger is to install additional lighting that illuminates the space. However, don't use large light fixtures that will require a lot of space. Low hanging light bulbs and bulky fixtures will not only intrude on the space, but also tend to cast uneven light or create shadows on the ceiling that draw the eye upward. This draws attention to the narrow bareness of the ceiling.
An electrician can often install recessed ceiling or wall light fixtures that won't require any space but that you can turn on quickly with a light switch on the wall. You can experiment with different types of light bulbs to determine the best wattage that will make the hallway seem larger. Lighting expands and lightens a space, so make sure the hallway is well-lit.
Windows are also a perfect way to brighten up an area, while making the illusion of a bigger and more open space, have a read of the article Just How Do You Decide on the Right Windows for You? for more help on this topic.
Attractive Wall Mirrors
Attractive wall mirrors with can make a small hallway look bigger. It also assists in reflecting light, which means you'll need less light fixtures to brighten the area. Consult with a home designer to order the frames for the mirrors and to understand exactly where to hang the mirror on the walls or take a look at this article on 10 Ways To Use Mirrors To Make Your Space Look Larger.
Choosing the right type of material for the mirror frames can also make a small hallway look larger. Frames should not distract the eye from the mirror, but should also be nice enough that they augment the lighting and space. You could even consider getting customized frames for either mirrors or pictures so that they will all match each other and your house's interior style. Large mirrors especially serve to expand the space they are in as well as to reflect light, which brightens the area.
Paint the Hallway's Walls with a Pale Color
A pale paint color can help a small hallway look bigger, so you should select paint that is off-white, gray, peach, or light blue rather than a darker shade of paint. In addition, shiny or glossy paint will help with making the hallway look longer and wider.
Painting the molding on the baseboards or near the ceiling in a lighter color is also beneficial. Remember that you can add molding materials to the walls in the hallway. Take a look at this helpful article named 'Dazzling Colours Of Autumn- How to Prepare Your Home For A Fanctastic Fall' to get that perfect Autumn colour scheme!
Use Computer Software to Plan a Hallway's Design
There are computer software programs that you can use to help you design hallways by changing the color of the paint on the walls or adding embellishments, including recessed light fixtures. Feel free to explore your options digitally, and consider asking an expert interior designer for advice and help in how to expand the narrow spaces in your home.
The following blog post 4 Interior Design Tips to Make a Hallway Look Bigger Find more on: keepitcartesian